A New Year's message from SunPeak's President
The New Year has only just begun, and we are already seeing many positive indications that this year will be significantly improved over last. I wanted to take the opportunity to briefly share some recent industry news that will benefit our customers, and also provide a short update on SunPeak's current initiatives.

The Big Picture: The State of Solar for Commercial Applications
Within the past few weeks, Congress passed a two-year extension of the Federal Investment Tax Credit (ITC). This was a meaningful action, allowing more businesses to take advantage of the 26% federal tax credit on solar projects. In addition to enabling greater return on investment for customers, the ITC extension also provides additional runway for projects that are already in development. More information about the ITC is available here.

The results of the most recent national election have established a new political composition for both the Executive Branch and Congress, and climate change initiatives are a top priority on President Biden's agenda. Already the United States has rejoined the Paris Climate Agreement, renewing the United States' global commitment to carbon reduction, and rejoining over 190 other nations that have already embraced the accord. It is expected that additional scrutiny will be placed on carbon emissions, speeding the adoption of renewable energy sources and increasing the demand for electricity with greater electrification of transportation.

These trends are not new. In 2020, 43% of all new electricity-generating capacity came from solar, representing by far the largest share of new capacity across all technologies.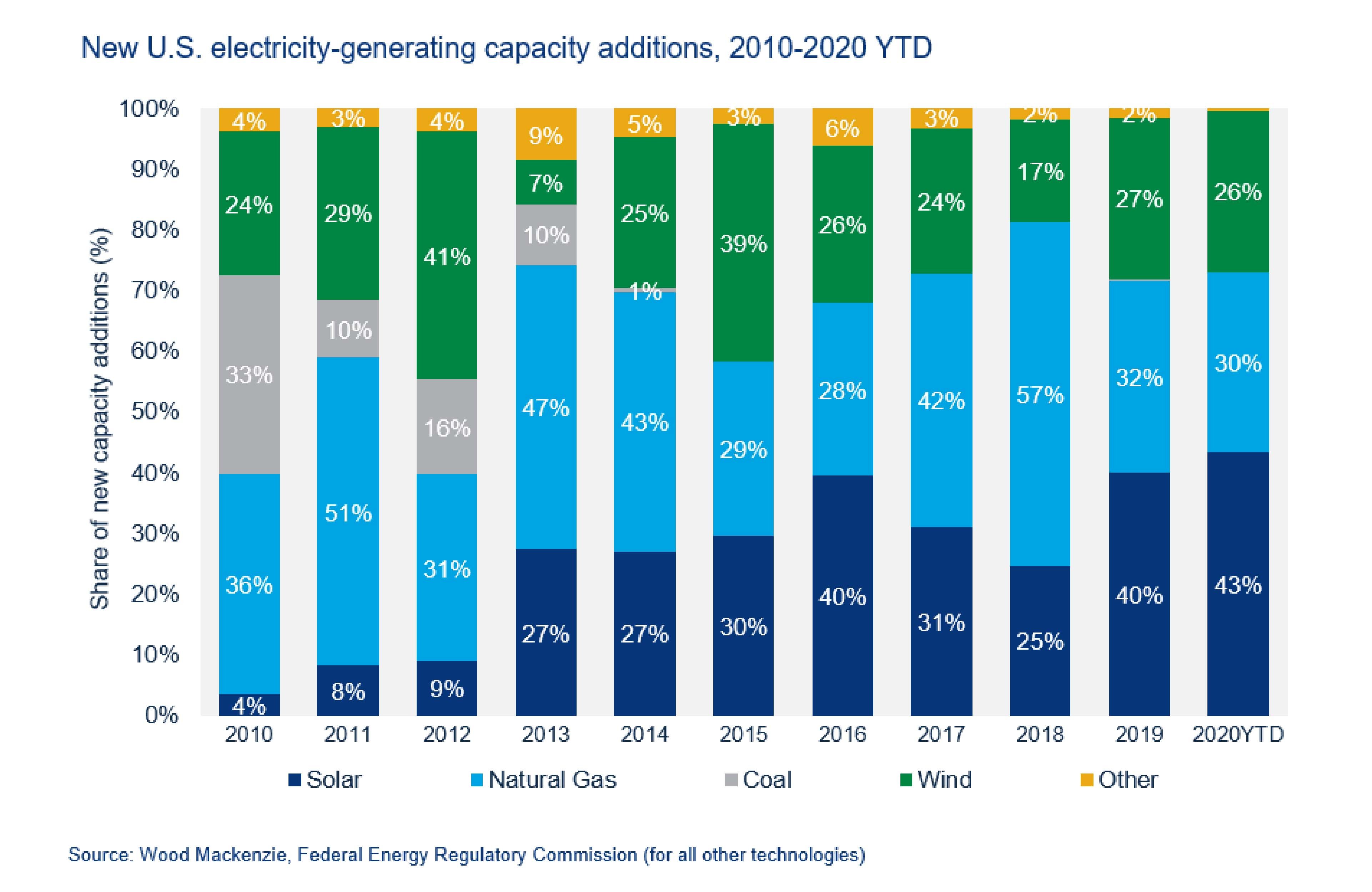 Solar module prices have begun to recede as well, further contributing to the cost effectiveness of solar. System cost reductions combined with the extension of federal and local incentives have made the return on investment for solar the best ever in many areas of the country. Indeed, the industry is well positioned for rapid growth in the coming years.

SunPeak in 2021
COVID was a strong headwind last year, to be sure. Along with many other businesses, we were challenged with project delays, greater logistical complexities, and health and safety precautions that all had to be addressed. With the rollout of the vaccine now underway, we see the light at the end of the tunnel and remain optimistic that a greater sense of normalcy will return for everyone later this year.

In the meantime, our team is hard at work for our customers. We have just begun construction on more than one hundred JP Morgan bank locations in Florida and Illinois through our new relationship with Black & Veatch, one of the largest construction and engineering firms in the energy sector. SunPeak is also wrapping up three major projects for Ashley Furniture Industries in California and Pennsylvania this quarter, one of which ranks as the fourth-largest rooftop solar PV system ever constructed in the United States. Additionally, SunPeak has a number of important Midwest projects in development with Alliant Energy, which will be announced in greater detail as those project plans mature. We are thankful for all of our customers and the opportunity to work on a wide variety of projects this year.

If you haven't heard, we recently relocated our headquarters to a new building. As you might guess, designing and constructing our own rooftop solar system quickly became a priority! The system is newly commissioned and will offset a major portion of our facility's annual electrical needs. As time goes on, it will also be utilized for in-person demonstrations and visitor education. We look forward to showing you around our new space at some point in the near future.

As we gear up for a strong 2021, we are actively growing our team. We are currently recruiting electricians and other roles within project management, sales, and financial administration. If you know someone interested in advancing their career within the solar industry, please let us know.

Related to our growing workforce and its capabilities, we are also enthusiastic about a newly-established national partnership with the United Brotherhood of Carpenters (UBC). This relationship enables SunPeak to build any solar project that desires union labor. The collaboration with UBC expands our reach, provides us with new project development opportunities, and grants us the support of a diverse and skilled set of field technicians that have been trained to SunPeak standards.

On behalf of our entire team, thank you for your interest in renewable energy and for your support of SunPeak. We look forward to working with you and helping you with your solar project needs this year and beyond.

Wishing you a healthy and prosperous 2021.