Lakeland Union High School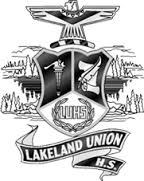 Lakeland Union High School (LUHS) is a public high school (grades 9-12) with over 700 students. LUHS partnered with SunPeak through a performance contract to install the largest solar system on a public school in the state of Wisconsin. The 280kWdc rooftop system is comprised of 1,056 panels and will offset approximately 20% of the school's energy needs.
The school's electrical demand doesn't drop significantly during the summer, because the building is used by summer school classes, office personnel and for weekend events. The panels were mounted with concrete ballast to avoid roof penetrations and face east/west for production efficiency throughout the day.
Beyond energy cost savings, the school expects teachers to incorporate the solar system in to it's STEAM curriculum (Science, Technology, Engineering, the Arts, and Mathematics.) "If we can help any of our pre-engineering students prepare for becoming involved in this field, it's certainly a feather in our cap, because we are then helping students think about their future" Bouché said. "When students heard about what was going on, they became very enthralled with the idea that their school was involved with energy efficiency."
SunPeak can also lead you through the world of generating your own power using the sun's free natural energy. Please contact one of our sales consultants today to begin the discussion. Our goal is to educate everyone about the exciting new alternatives available to economically power your business. We are a high integrity group, offering the strongest value in the industry.
LUHS is proud to be "Energy-wise."
Several media outlets have covered this story.
"I'm glad we had the opportunity to work with with SunPeak on this economic and academic venture! The solar system will benefit our students, staff, communities and our physical plant of just under 300,000 sq. ft."

James P. Bouché


Principal/District Administrator, Lakeland Union High School