Steep & Brew Coffee partnered with SunPeak to install an 80kWdc solar PV system on their rooftop.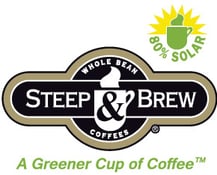 A Greener Cup of CoffeeTM is Steep & Brew's new tagline, since they partnered with SunPeak to add 315 roof mounted solar PV panels to their corporate office, roasting facility and distribution center on Madison's east side.
At 80kWdc capacity, this system now generates 78% of their energy consumption needs.
Steep & Brew's founder, Mark Ballering expressed his motivations for investing in solar, "It just seemed like the right thing to do for our customers, the community and our employees. The employees have expressed their pride in and appreciation for our company's social and environmentally responsible actions. Customers have a lot of choices and building a good brand impression can make the difference."
Five years ago Steep & Brew paid $300 for a solar site evaluation and discovered the product warranties, rebate programs and financial payback did not make sense. In 2016, SunPeak provided a free solar quote and proposal that demonstrated a dramatic improvement in the solar project economics. Ballering approved the project and design engineering started immediately.
"I worked with SunPeak for my 80kW rooftop photovoltaic. From getting bids and site inspections (there were 3 bidders) to work completion took only 3 months. Once the contract was signed, the inside electrical rewiring and the rooftop installation moved quickly and synchronously. SunPeak was always a step ahead and the communication was thorough without being excessive. I plan to call on SunPeak for my next solar installation."

Mark Ballering
President, Steep & Brew Coffee