September 13, 2017 - Madison, WI. Retail-owned grocer corporation, Certco, Inc., installed a 726 kWdc SunPeak solar system on the roof of their Madison, Wisconsin refrigerated distribution center in August to reduce the grocer's carbon footprint and operational costs, while also demonstrating community leadership.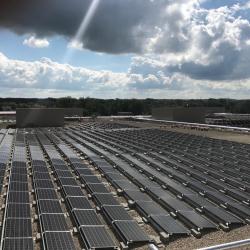 Certco's SunPeak Solar Installation Founded in 1930, Certco, Inc. services over 200 grocery stores throughout the Midwest, including WI, IL, MN, and IA. The new 2,640 module rooftop solar installation will allow their refrigerated warehouse in Madison to offset around 12% of current electrical consumption with the sun's energy. In turn, over $4,329,000 million in projected energy savings are expected over the lifespan of this solar system."It became apparent in the last year that a solar panel project would pay us back in a short period of time. With the size of our cooling plant for our 300,000-square foot refrigerated warehouse, it just made 'Dollars and Cents'", said Randall Simon, President & CEO of Certco, Inc.
SunPeak, a Madison, Wisconsin-based solar developer, partnered with Certco, Inc. to provide the turnkey solar installment.
"Recent reductions in solar installations costs allow companies with large electrical loads to embrace solar as an economical energy source and long-term investment. SunPeak is proud to partner with Certco, Inc. to help offset their energy needs with clean energy from the sun as a champion for sustainability in Wisconsin," said Chad Sorenson, President of SunPeak.
Over 7,436,333 kWh of renewable electricity will be produced annually as the solar photovoltaic (PV) panels atop Certco, Inc.'s Madison-located refrigerated warehouse convert sunlight to energy. While current lucrative tax incentives and rapidly declining solar component costs allow for a simple, attractive return on investment, this solar system's energy offsets also support Certco, Inc.'s green initiatives at their Madison location and throughout the Midwest.
"Certco analyzes our capital spend with detailed review of return on investment in all major cash outlays. Being retailer owned, we have started the groundwork that now some of our independent grocery stores are able to lean on and consider an investment in solar too.", said Amy Niemetscheck, Executive Vice-President & CFO of Certco, Inc.
---
Certco Inc.
Certco Inc. provides independent grocers with the best available services in wholesale grocery. Certco services over 200 stores throughout Wisconsin, Illinois, Minnesota and Iowa. Certco currently has approximately 1 million sq. ft. of distribution center that distributes over 57,000 items for today's independent grocery retailer. More information at www.certcoinc.com.
SunPeak
SunPeak is a turnkey developer of commercial solar systems, handling feasibility studies, financial payback analysis, system engineering, installation, and ongoing maintenance. Projects typically range from 100 kW to 5 MW and offer significant cost savings relative to conventional utility rates. The company was founded in 2014 by Chad Sorenson and a team of leading global solar developers who have completed more than 450 MW of installations on three continents over the past decade, including projects in Canada, Germany and Japan. More information at www.sunpeakpower.com or 608-535-4554.
###