SunPeak customer DePauw University has attracted newfound attention from top state and local agencies for its commitment to environmental protection and sustainability. The liberal arts college in Greencastle, Indiana recently received three awards for its use of solar power and other energy-management strategies.
DePauw was selected by the Indiana Department of Environmental Management as a recipient of the prestigious Governor's Award for Environmental Excellence. The awards are reserved for innovative, sustainable, and exemplary programs or projects that demonstrate measurable environmental, economic, and social benefits to the state. The award specifically recognized the success of DePauw's campus energy master plan.
DePauw's campus energy master plan, launched in 2019 and completed in 2020, has reduced campus energy use by 33%, resulting in a significantly lower carbon footprint for the college as well as an annual reduction in energy costs of $780,000. A pivotal part of the plan included commissioning a rooftop solar system atop DePauw's Indoor Tennis and Track Center, a project that has become an important visual reminder to staff and students of the campus's sustainability commitment. The plan also included converting campus lighting to LED, optimizing its HVAC systems, and installing low-flow water fixtures.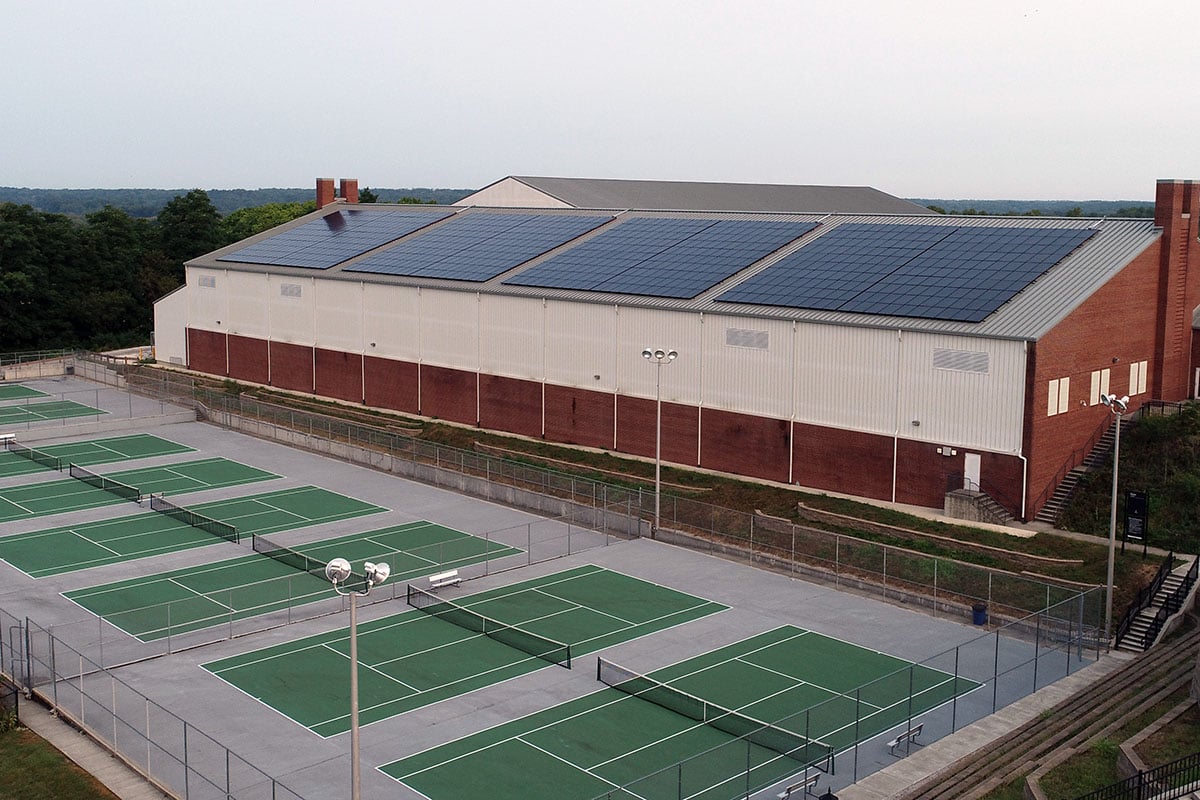 Photo: DePauw University partnered with SunPeak to design and install a rooftop solar PV system for its indoor Tennis and Track Center. The system is expected to offset more than 6,000 tons of carbon dioxide gas emissions during its useful life.

Duke Energy, a major utility provider in the state, also lauded the success of the campus energy master plan by honoring DePauw with its Power Partner Award, which recognizes innovation, resiliency, and sustainability. DePauw was one of seven winners chosen among Duke's 4,000 large business customers. As a participant of Duke's Smart $aver program, DePauw has already received $319,103 in incentives for its energy management investments and is expected to receive another $177,867 for a new chiller plant and HVAC system.

A third honor came from the International District Energy Association, which gave DePauw an innovation award for its environmental contribution.

Chris Hoffa, DePauw's Director of Systems Operations, regarded master plan as a win for the campus in all respects. "Implementing the master plan has enabled DePauw to reduce its carbon footprint, achieve significant energy cost savings, and reduce our deferred maintenance burden on campus."

Jeanette Pope, Professor of Geosciences and DePauw's Faculty Sustainability Coordinator, said she was "absolutely thrilled" to see DePauw's campus energy master plan receive such prestigious recognition. "The project was already a success – it saved money, improved energy use, and contributed to our sustainability goals, so the added recognition is just the icing on top, but it is some high-quality icing!"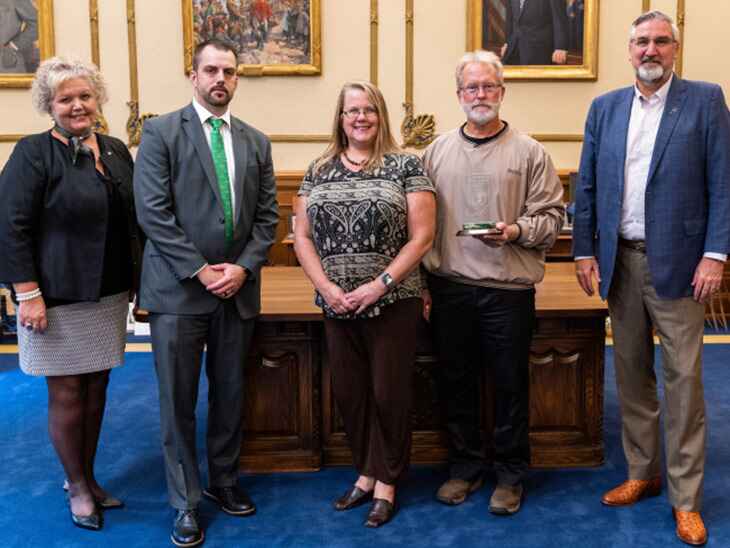 Photo: DePauw Geosciences Professor Jeanette Pope (center) and Chris Hoffa, DePauw Director of Systems Operations (second from right), receive the Governor's Award for Environmental Excellence from Julia Wickard, Indiana Department of Environmental Management (IDEM) Assistant Commissioner, Brian Rockensuess, IDEM Chief of Staff, and Indiana Governor Eric Holcomb. Photo credit: DePauw University.