8/22/17 - Madison, WI. This July, Dane County became the 19th county in Wisconsin to pass PACE legislation, a program which enables commercial property owners to obtain long-term, non-recourse clean energy financing for energy efficiency, renewable energy, and water conservation improvements.
WHAT IS PACE?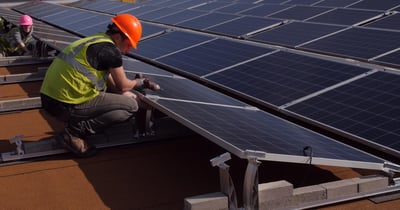 PACE (Property Assessed Clean Energy) authorizes municipalities and counties to work with private lenders to finance qualified projects. This program can be used for almost any form of energy efficiency generation or water saving project, including solar PV, building controls, more efficient chillers, upgraded boilers, energy efficient roofing and even low-flow toilets. Solar projects financed by PACE are immediately cash-flow positive because the federal tax incentives and yearly energy savings exceed the loan service payments.Clean energy financing
The debt itself is a special assessment on the building's property tax liability, is "off balance sheet" and is based on the assessed value of the property, rather than the credit or assets of the building owner. The term of a PACE financing may extend through the useful life of the improvement (which may be as long as 20-25 years) and can result in cost savings exceeding the amount of PACE financing - the result is improved business profitability, an increase in property value, and enhanced sustainability.
HOW WILL PACE IMPACT DANE COUNTY?
This new clean energy financing legislation will help business owners in Dane County:

Stimulate job creation and investment in energy and water improvements
Revitalize aging buildings, increase property value, and increase the tax base throughout the county
Save building owners money through more efficient building operations
Achieve aggressive sustainability goals through energy and water saving projects
Dane County joins several other Wisconsin counties that already adopted PACE Wisconsin, including: Eau Claire, La Crosse, Douglas, Dunn, Chippewa, Iowa, Jefferson, Fond du Lac, Sheboygan, Racine, Washington, Ashland, Bayfield, Manitowoc, Marathon, Ozaukee, St. Croix, and Wood.

FREE SOLAR ANALYSIS AND MORE INFORMATION
Send SunPeak your business utility bill for a quick, no cost/obligation solar analysis. For more information about solar, PACE financing in any of these counties, and a free solar analysis, email SunPeak at contact@sunpeakpower.com or visit our website at www.sunpeakpower.com.