Learn more about SunPeak's new composting program, what we're learning, and how it's going.
---
When it comes to making sustainable choices, sometimes simply looking at daily habits is a good way to make some of the most impactful changes. This summer, our team decided to work on reducing our food-related waste, and has since embarked on composting. If you've never thought of composting as a workplace initiative, you're not alone, but we've been pleasantly surprised with how easy and well it is going. If you're curious about our program or you're interested in how to get started with a composting program at your office, read on.

Why Composting?
Composting is simply the breakdown of organic material like food or garden clippings with the help of naturally-occurring bacteria and fungus. Composting is great because it helps limit organic waste in landfills, and it also cuts down on the production of methane, a potent greenhouse gas. Plus, finished compost can be used to improve soil fertility and prevent soil erosion.


Why Composting for SunPeak?
Our office has a great communal kitchen and dining area, and team members regularly use this space to prepare and enjoy breakfast, lunch, snacks, and coffee drinks throughout the workday. We had already taken steps to minimize single-use materials in the kitchen and recycle food packaging and containers, but composting seemed like an good opportunity to repurpose food and garden-related scraps.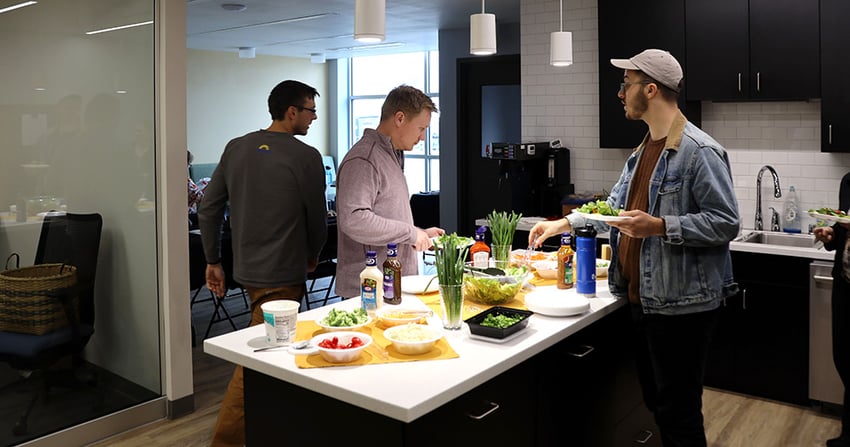 Above: The kitchen area is used often for daily snack and meal prep, as well as team gatherings.
How it Works
To make the program manageable for everyone, SunPeak signed up for a local paid service called Green Box. As part of the service, we have a small collection receptacle in our kitchen and a larger container that's kept outside. We empty the kitchen receptacle whenever it's full, just like we would with trash and recycling. Every two weeks, Green Box picks up our collected materials and containers and provides us with clean collection bins.


Pleasant Surprises
Though everyone liked the idea of composting, there were some initial questions. What can we compost? How bad is this going to smell? Is this worth the effort? So far, we've been pleasantly surprised. Here is what we've found so far:
•

There's a wide variety of things that can be composted

We expected that we'd only be able to repurpose waste from fresh ingredients (fruits and vegetables), but the program is quite a bit more robust. Green Box uses the handy phrase "If it grows, it goes [in the compost]". That includes coffee grounds and paper filters, dairy products that aren't watery, grains such as oatmeal, bread and pasta, nuts and seeds, and even meat.


•

It doesn't smell

Quite remarkably, the smell from the compost collection bin is undetectable, even to the most discerning and sensitive noses among us. The kitchen area is as popular as ever, and thanks to the compact size of the collection bin, compost fits in seamlessly with our secondary garbage and recycling containers, so it's out of the way.


•

We've cut back significantly on food-related waste

In a two-week period, we're composting about 4 gallons of food-related waste instead of throwing it into the garbage. As the seasons turn, we'll be able to add lawn and garden clippings to our compost as well.


•

It's kind of fun

Deciding as a group to take on something like composting that has a positive benefit to the environment is a great way to build camaraderie and accountability for our collective actions. It adds to the culture and team dynamic of how we define ourselves as an organization.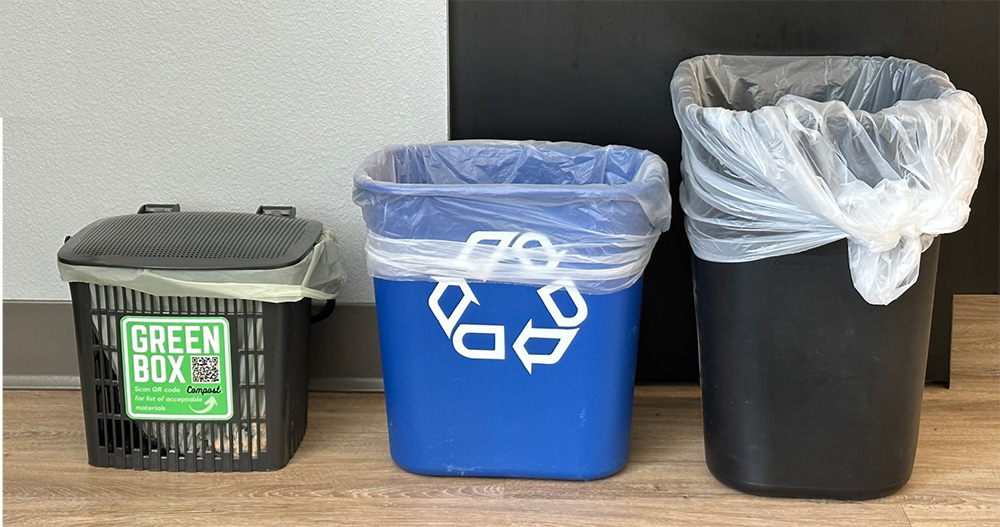 Above: The composting box takes up little space inside the kitchen area.


Key Takeaways
Overall, the program has been a win for us. It's easy to comply with the guidelines, takes up almost no room in our space, doesn't smell, is a great complement to our sustainability initiatives, and helps us keep unnecessary food and garden waste out of our local landfill. Plus, making new sustainability choices reminds us to keep looking around and asking ourselves what else we can do to be better stewards to the environment, which is always a good thing.