If you don't think your site can benefit from solar, you might want to take a closer look. New programs and ample sun help Midwest businesses improve sustainability and the bottom line with solar.
When you think about the best places in the U.S. to use solar panels to power a commercial facility, your mind likely starts with states like California or Arizona before considering Wisconsin, Illinois, or others in the Midwest. If you operate a business in the Midwest though, solar likely has more benefits than you expect.
Here we explain why solar works in the Midwest and why now is an especially good time to take action.
Midwest Sunshine: An Abundant Solar Resource
Though many associate the Midwest with cold winters, solar energy production is dependent only on the sunlight that shines on the panel, not atmospheric temperatures. Regardless how cold it is, solar panels are productive whenever the sun is shining, and the Midwest receives quite a bit of sun annually.
To illustrate, consider the chart below which compares the average amount of annual sunlight, or solar insolation, received across the United States, Spain and Germany. In the United States, the southwest region unsurprisingly has the highest solar insolation, but it's important to note that most of the continental United States, including the Midwest, receives just as much or more sunlight as Spain, and considerably more sun than Germany.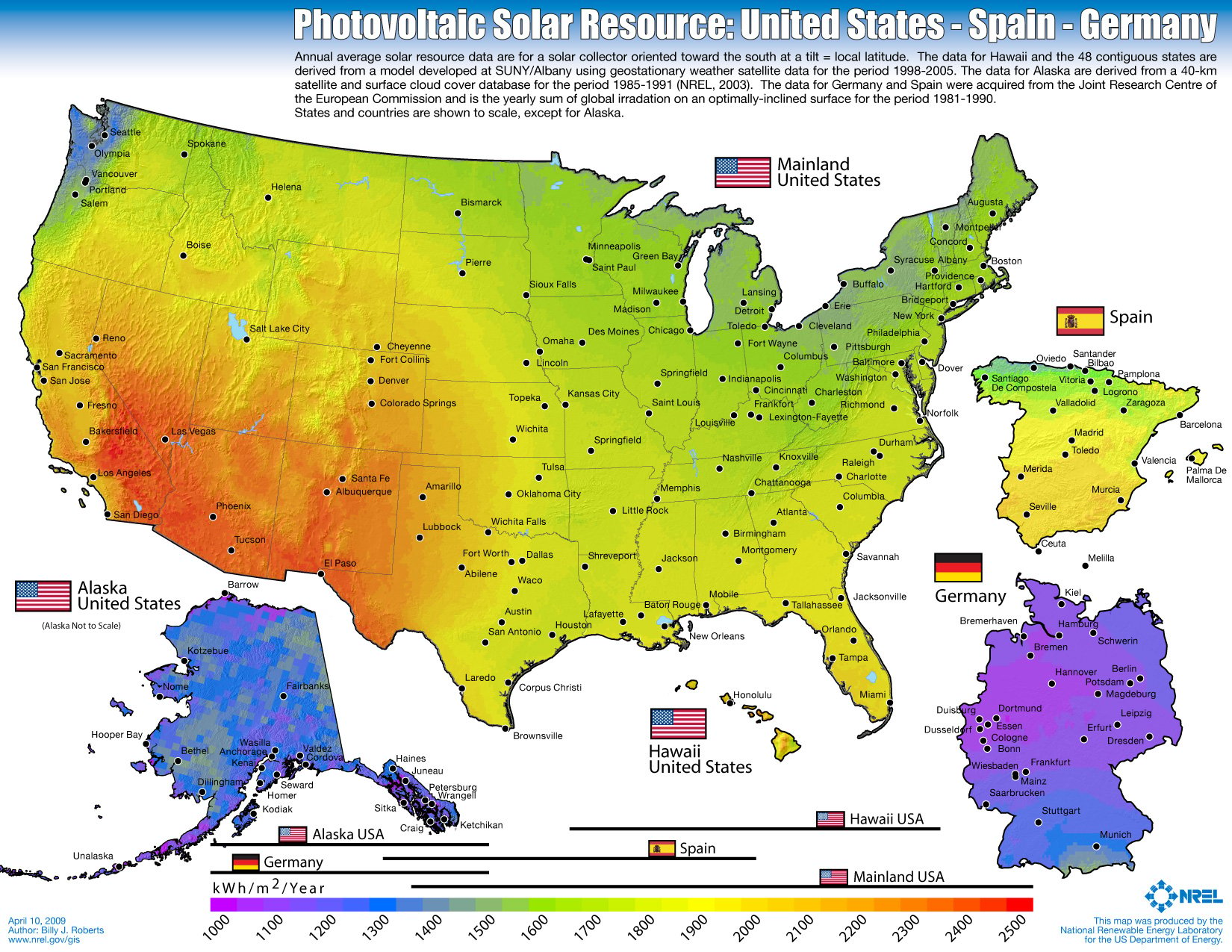 Above: Solar insolation measured in kilowatt hours (kWh) per area across the United States, Germany and Spain. Image credit: National Renewable Energy Laboratory (NREL).

These comparisons are relevant. First, Spain is a country that is ideal for solar and leads the world in some types of solar power production. Second, even though Germany's solar insolation is most like Alaska's, the German government has invested heavily in solar over the last decade and the country has some of the highest rates of solar adoption and use in the world. During times when both sun intensity and power consumption are at peak levels in Germany, solar power is capable of generating more than 40% of the country's power production needs.

By further comparing solar insolation metrics for specific cities within Germany, Spain and the contiguous United States, the argument for solar based on available sunlight is clear. From a sunlight perspective, solar is easily viable in cities across the Midwest.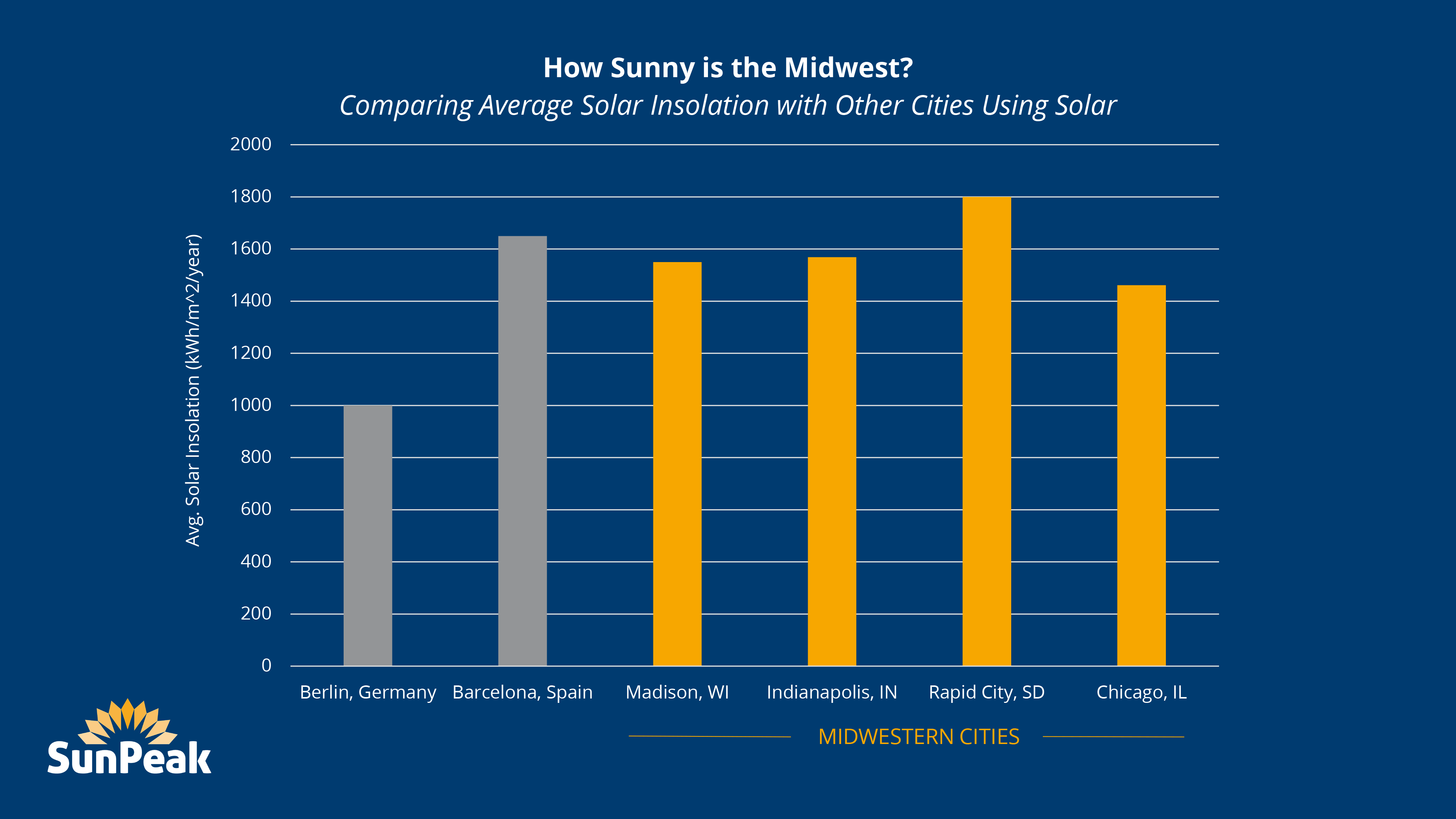 Wintery Weather: Do Cold and Snow Impact Solar Panel Productivity?
In areas of the country that experience a true winter, solar panels remain productive throughout the winter months, but contribute less electricity during this period of the year than they do in the summer due to fewer hours of available daylight. Cold weather does not affect production, as solar panels actually perform better in colder conditions.

Snow has a minimal and temporary effect on solar panel production. Even when solar panels are covered with snow, the panels will emit a small amount of thermal energy, which speeds snowmelt. This effect, combined with the angle of the panel, helps snow slide off solar panels unassisted. Snow removal is not needed nor is it advised for a commercial solar installation. On a sunny, snowy day, it is possible for solar panels to output more energy as sunlight reflects off the snow cover.

A reputable commercial solar provider will be able to model the expected solar energy production for your site throughout the year based on weather and climate data. Chances are, despite a dip in solar energy production during the winter months, the net value of annual energy production will make the investment favorable.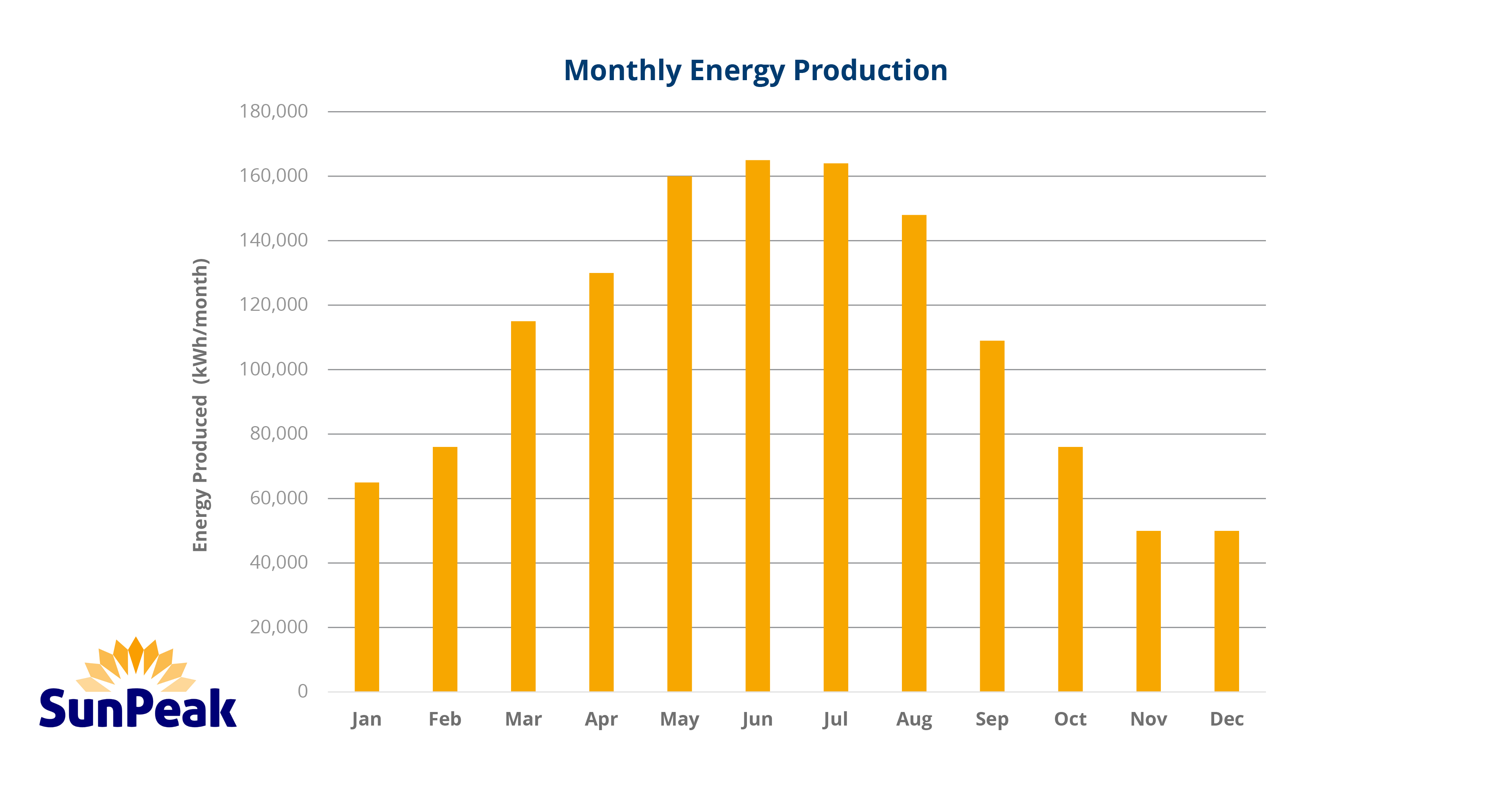 Above: Monthly solar energy production is shown for an industrial facility near Racine, Wisconsin. Though solar production is reduced in winter, this SunPeak customer still saves more than $150,000 on its electrical costs annually since installing rooftop solar panels.
Commercial Solar Costs: Financial Incentives Vastly Reduce Solar Project Expenses
The Investment Tax Credit (ITC), a federal financial incentive for solar, was revised and expanded in 2022 within the Inflation Reduction Act (IRA) legislation. The ITC is an important tool that helps organizations reduce their solar project costs by at least 30%, with potential tax credit adders that can exceed 50% of project costs. When the avoided energy cost benefits of solar are also factored in, the financial argument for solar in the Midwest becomes quite clear.

Another exciting aspect of the Inflation Reduction Act is that it provides a way for non-profit organizations to receive equivalent tax credit benefits for solar via a cash payout.

Beyond federal incentives, many states and local utilities also offer businesses and non-profit organizations financial incentives to choose solar. The Illinois Shines program, for example, is a state-administered incentive program supporting the development of new solar energy projects across the state of Illinois. This program rewards system owners monetarily as solar electricity is produced, thus further enhancing the return on investment for solar. Other solar energy grants, equipment rebates, and renewable energy incentive programs exist throughout the Midwest and can provide additional system savings and monetary benefit. An experienced solar provider can help you understand these programs and how to apply.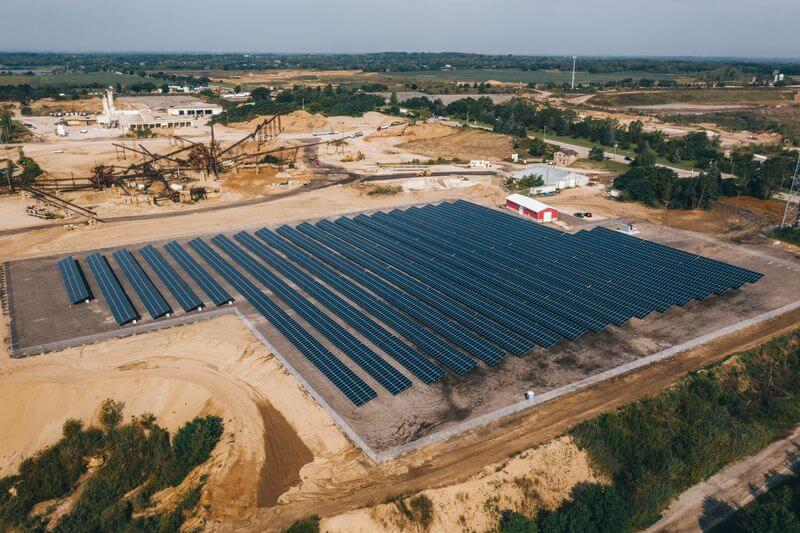 Above: Thelen Sand & Gravel is one of many SunPeak customers that has significantly reduced its solar project costs by utilizing Illinois' state and utility-funded solar incentives. Solar supports Thelen's environmental sustainability plan and is expected to save the aggregate mining operation more than $6.6 million in electrical costs over the life of the system.
Minimal Maintenance Considerations for Midwest Solar
Solar equipment is designed to perform for 30+ years while withstanding a wide range of outdoor conditions and temperature fluctuations. Most standard solar systems have no moving parts, thus day-to-day maintenance activities and costs are minimal beyond routine equipment checks.

All primary solar system components come with long-term warranties, and new solar systems are often equipped with performance monitoring capabilities so owners can track solar production in real time.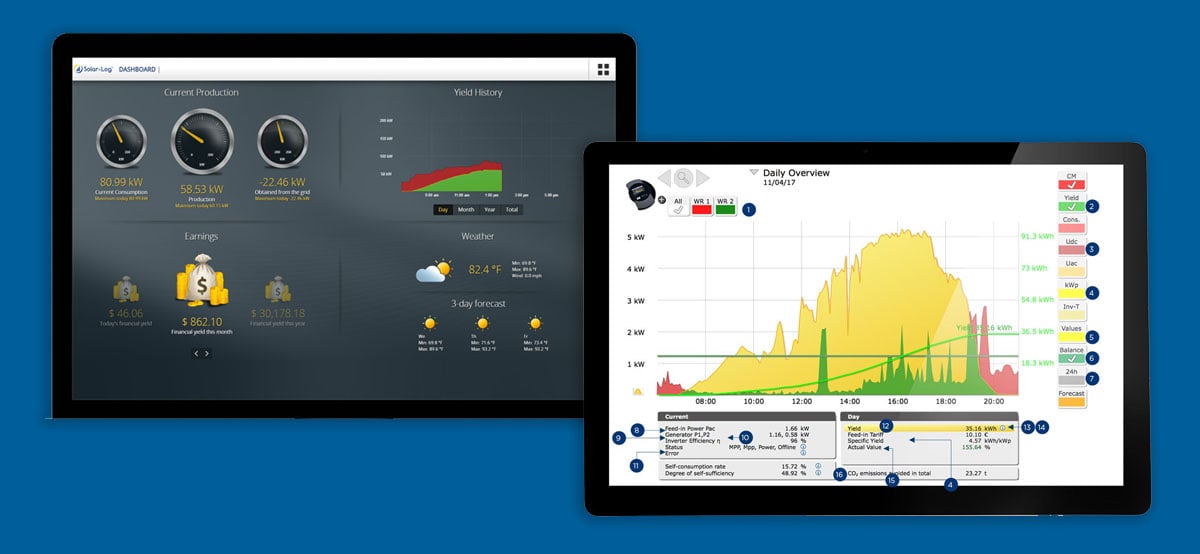 Above: SunPeak's Operations & Maintenance plan includes system monitoring, which gives customers 24/7 access to their system's performance and sustainability metrics. The platform also sends automatic alerts to SunPeak's team if an equipment error or maintenance issue arises.
Solar Supports the Preservation of Midwest Natural Resources
Waterways, farmland, and forests are just a few of the treasured natural resources that support our local and national economies, our tourism industry, and our quality of life in the Midwest. Unfortunately, rising temperatures and the erratic weather patterns associated with climate change are expected to threaten our resources in the Midwest over time, in turn jeopardizing the industries, ecosystems, and recreational activities we value.

By choosing solar, your business supports a cleaner, more sustainable future – for itself and for generations of Midwesterners to come. Reducing your carbon footprint and reliance on fossil-sourced electricity is a significant way to demonstrate your sustainability values to current and future customers and employees.
Key Takeaways
For Midwest businesses and non-profit organizations, using clean, renewable energy from the sun makes sense for many reasons. In addition to saving money and insulating your business from rising utility costs, your business can take advantage of lucrative federal and local solar incentives to further improve the project ROI.

Regardless where your facility is located, SunPeak can determine exactly how effective solar could be for your business. As part of SunPeak's initial consultation and project proposal process, we provide energy production and cost-savings projections specific to your unique facility needs and location.