The implementation of solar power amongst US businesses is greater now than ever before and is providing significant competitive advantages.
A winning business strategy often comes down to staying focused on the fundamentals: maintaining effective cost controls; maximizing customer and employee value; and making strides to improve brand position and perception. In today's marketplace, most companies must view all of these initiatives through the lens of their environmental impact to effectively mitigate risk and maintain relevancy.

For forward-focused organizations looking for an effective means to positively influence all of these core business tenets, solar power has become a top priority because it improves the bottom line while providing measurable sales, marketing, and sustainability advantages that are meaningful to customers, investors and employees. Additionally, available financial incentives including federal tax credits further reward commercial solar investment.

Organizations are actively using solar as a means of "future proofing" - mitigating business risk while gaining distinct competitive advantages. Here are some of the top reasons commercial solar sets companies on a successful path.


5 reasons solar power is a great choice for forward-thinking businesses:
1. Solar helps your company secure considerable electrical cost savings, which improves the bottom line immediately, and for decades to come.
Within the last decade, it became significantly cheaper for businesses to generate solar power onsite than purchase power from a utility. A perfect storm of circumstances has made solar the clean energy champion for cost, installation ease, durability and performance, and environmental sustainability.

Businesses that are interested in solar can easily determine their expected savings by enlisting the assistance of a reputable commercial solar company who can evaluate the site's electrical consumption, determine appropriate system sizing, and calculate the net value of solar (total solar system investment divided by the total amount of energy the system will produce over its lifetime). This net cost of solar is often drastically less than the $/kWh rate a business pays its utility. These cost savings of solar are realized immediately.

Solar PV systems produce power for decades, enabling your business to lock in operational cost savings for 30+ years. These savings free up capital to be invested in other business goals. Additionally, businesses can also take advantage of important federal and local financial incentives, which can easily offset solar project costs by more than 50%.


2. Solar increases your utility independence and insulates your business from rate volatility.
Utility rates are on the rise. Over the past decade, average utility rates have grown more than 2% per year, and these rates are becoming increasingly more volatile. With greater uncertainty in global energy markets, recent inflationary spikes, and rising natural gas prices, ratepayers across the board are experiencing higher than expected utility rates.

By offsetting utility consumption with solar panels, businesses can mitigate exposure to energy rate fluctuation risks. Solar-powered businesses can better predict and budget for their energy expenses, a tremendous competitive advantage.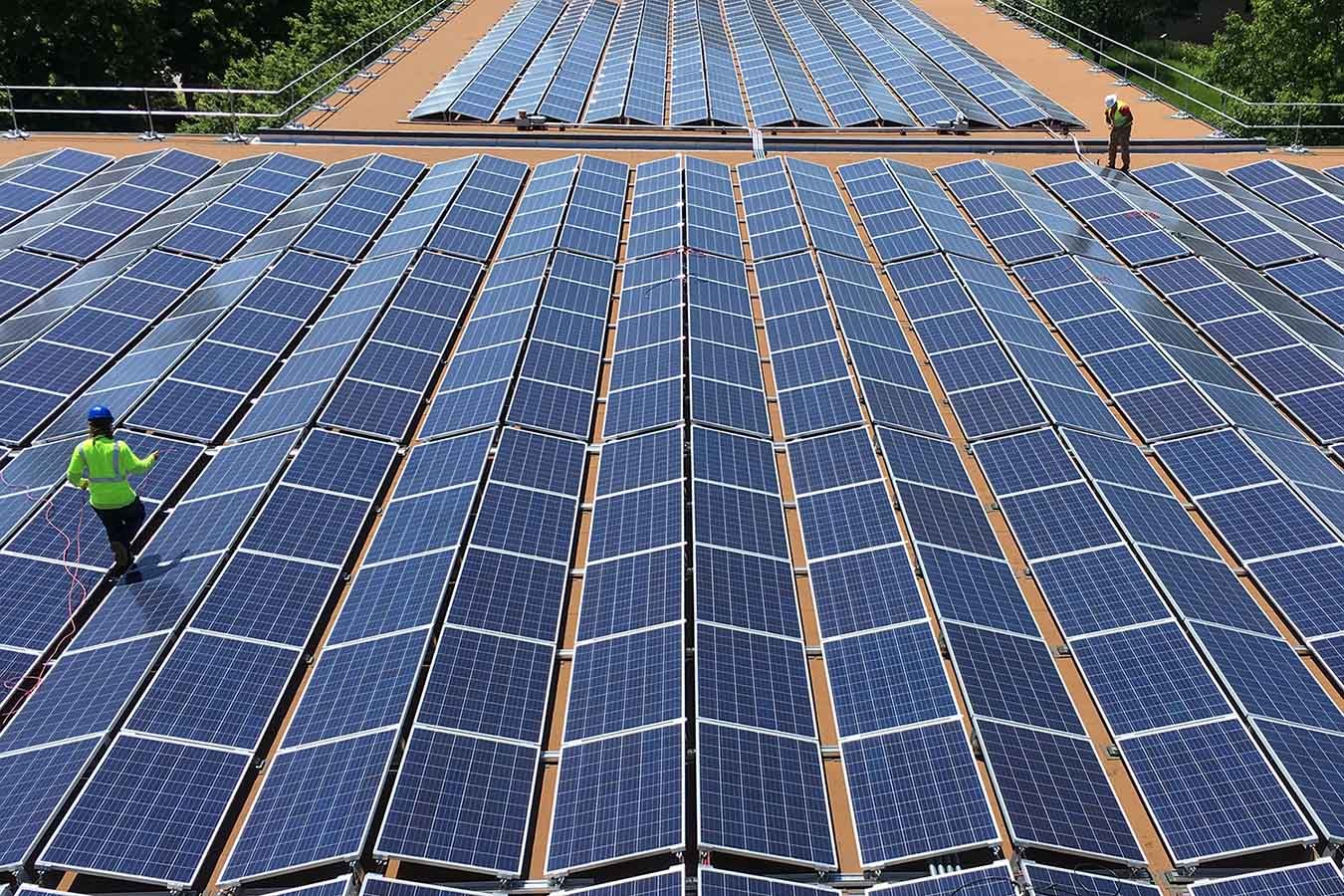 Above: SunPeak, a commercial solar company, installs a one-Megawatt rooftop solar system atop American Family Insurance's national headquarters in Madison, Wisconsin.
3. Solar demonstrates your commitment to the environment.
The impact of the climate crisis is increasingly evident, and many leading companies are prioritizing operational changes in order to be part of the solution. For companies that are defining or enhancing their Environmental, Social, and Governance (ESG) or sustainability goals, solar is often the most cost-effective way to generate renewable energy and significantly reduce an operation's carbon footprint.

Most businesses can easily offset at least 20% of their utility consumption with solar panels, and depending on site characteristics and local utility policy, some businesses can offset more than 75% of their current electrical consumption with clean energy from the sun. By using solar, companies reduce their reliance on dirty and diminishing fossil fuels and can be proud to operate in a more environmentally-sound way.


4. Solar enhances your company image.
Public perceptions are meaningful, and in a world increasingly focused on sustainability, businesses focused on reducing their environmental impact are generating greater brand loyalty.

In a global online survey, 81% of respondents felt strongly that companies should help improve the environment, and this view is shared across different genders and generations. While Millennials, Gen Z and Gen X are the most supportive, their older counterparts are quickly catching up.

While the average person may not fully understand the science behind solar, the technology is widely recognized as an earth-friendly investment. When your business chooses solar, it makes an important, visual statement that it's doing something to improve the climate crisis. This message resonates with all of your most important stakeholders, including:
Customers: For current customers, solar simply gives them another reason to like you and continue supporting you. By sharing your sustainability investment publicly, it also gives you the opportunity to win new customers.

Employees: Today's workforce is increasingly eco-conscious, and employees are demanding that businesses become more sustainable. In a competitive, candidate-led employment market, businesses using solar and other sustainability initiatives are recruiting new staff more successfully and retaining talent longer.

Investors: ESG-focused investing is becoming mainstream. Solar shows investors that your business is proactive in mitigating financial and environmental risks, is responsive to consumer trends, and capitalizes on growth opportunities.


5. Solar financing tools maximize the benefits of solar without disrupting capital priorities.
Solar doesn't have to be a capital expense. A number of robust and flexible investor-owned financing options exist that can enable your business to go solar with low, or no, upfront capital requirements.

Financing models such as Power Purchase Agreements, Energy Service Agreements, and Operating Leases provide:
Accessibility and affordability for non-profits and companies without tax appetite: For non-profit organizations and companies without tax liability, the federal Investment Tax Credit (ITC) benefit can't provide direct benefit. By having an investor with tax appetite finance and own the system, the full benefit of the federal tax credit can be realized and passed down to the customer via favorable rate and contract terms, providing a win-win for all parties.


Ease for companies that want solar, but prefer an outsourced energy model: Some companies only acquire assets that support their core business processes. An investor-owned system lets these companies save money on energy costs while continuing to treat energy as an expense.


Favorable return on investment without using existing capital or debt: Businesses often have competing capital priorities. With investor-owned financing, organizations can move forward with solar, save money on energy costs, and still pursue other investments.


Investing in solar for your business supports its current and future success.
SunPeak has helped many leading companies across the country implement solar. To find out how solar can offset your company's operational costs and carbon footprint, get in touch with our team. We will provide a free, no-obligation Solar Feasibility & Financial Analysis and walk you through the process of solar for your site.